Our SAS journey is probably no different to many other families. The only main difference to most being that we have two handsome boys with the Syndrome instead of one!
They have endured various testing all followed by a succession of diagnosis. There were the hospital visits, poking, prodding and all the questions but never any real answers. Were their difficulties because of an X linked chromosome fault? Was it Landau Kleffner Syndrome or the Cerebellar Vermis Hyperplasia? What? Would it affect my other two sons when they started their own families?
On top of all that we had to get on with being parents to 4 lively boys and all the extras that come with disability. Planning strategies to stop the drooling, improve hand eye coordination, to communicate, to potty train an 8-year-old. We had meetings to fight for support at school, meetings to fight to change schools, EIP meetings, meetings with Social workers, for budgets, transport, specialist dentists, therapists, meetings, meetings, meetings! Early on we decided I should give up work and become a stay at home mum or we were never going to fit all that in!
These were our wilderness years. Eventually we left all that behind us. We came to the end of the search for a diagnosis. That space on all the forms that asks "What is your child's Diagnosis?" was filled with "Learning Difficulties "or "Global Development Delay". The boys' blood samples went off to Cambridge to the G.O.L.D study (Genetics of Learning Disability) with the promise that nothing may come of it and that was it. We got on with our lives.
And what a life It has been! We have seen major teenage melt downs, broken bones and received black eyes. We do not own any ornaments. Anything that can be quickly utilised as a missile or dangerous weapon is hidden away or is just not allowed into the house. Some things have slipped through the net and we have a lovely big dent in the oven door to remind us of our sloppiness. Life is tough and often we feel exhausted and overwhelmed. Then we get a lovely smile, a tight cuddle. All the small simple things in life are a huge joy and reward to us. Daniel and Joseph are hard work, but we would not change them for anything. We would be a different kind of family with different priorities in life. They made us who we are and we are grateful. Exhausted, but grateful.
One day when the boys were 12 and 16 we got a call from a very excited geneticist to tell us that The G.O.L.D Study had discovered that our boys had a mutation of the SATB2 Gene and how rare it was and how rare for sibling to have it and did we know that the main man who first discovered this gene was his colleague? It was so rare for siblings to have this mutation, could they write about it, please? We were to be written up! Woo hoo! Progress at last! We had made it! Then nothing much happened.  For another 5 years we just continued as before. Until I was doing a wee search for something online and came across Dr Zarate in the US and the SATB2 website. We contacted Dr Zarate and joined his study and in return he pointed us in the direction of the wonderful SAS families on Facebook! Not wanting to sound dramatic but it is like being reborn! Ok that is a wee bit dramatic but hey! Finally, we are not alone! Finally, we can see the faces of our boys in all the children who smile from the SATB2 FB page. There are people out there who "get it". And it is a great feeling. We are so glad we found them. Our boys are now 23 and 20 and we are grateful to have connected with so many SAS families here in the UK through our WhatsApp group and Facebook. We share stories and advice and support each other through the hard times. We are now no longer alone in our journey.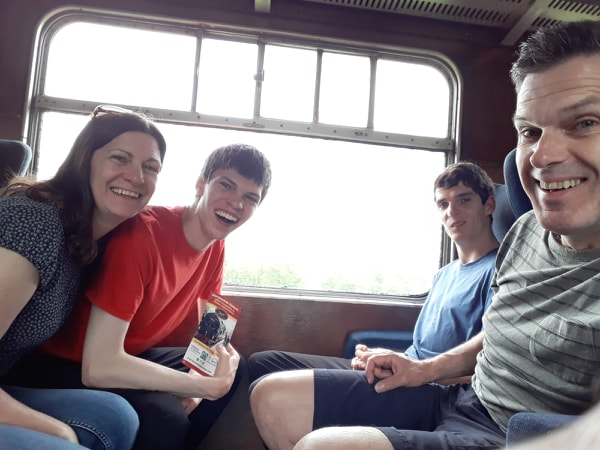 https://satb2gene.org.uk/wp-content/uploads/2020/06/joseph-and-joe.jpg
789
1253
CBMike
https://satb2gene.org.uk/wp-content/uploads/2020/06/SATB2-logo-180x180.png
CBMike
2020-06-29 17:46:04
2020-07-10 17:31:45
Gayle's story – Joseph and Daniel