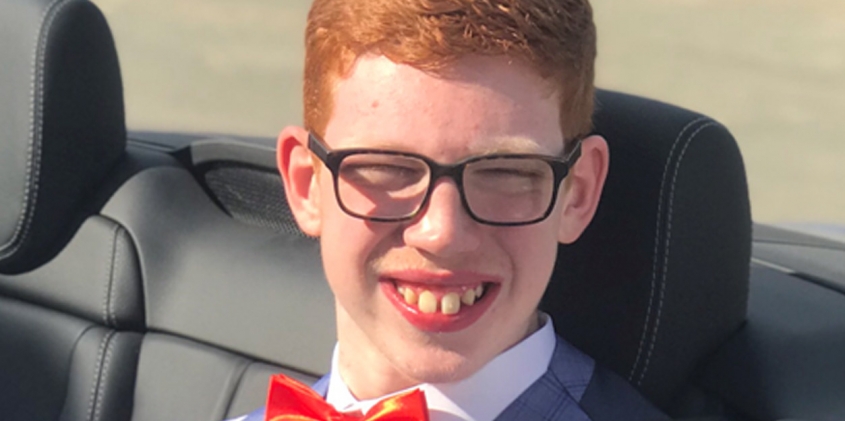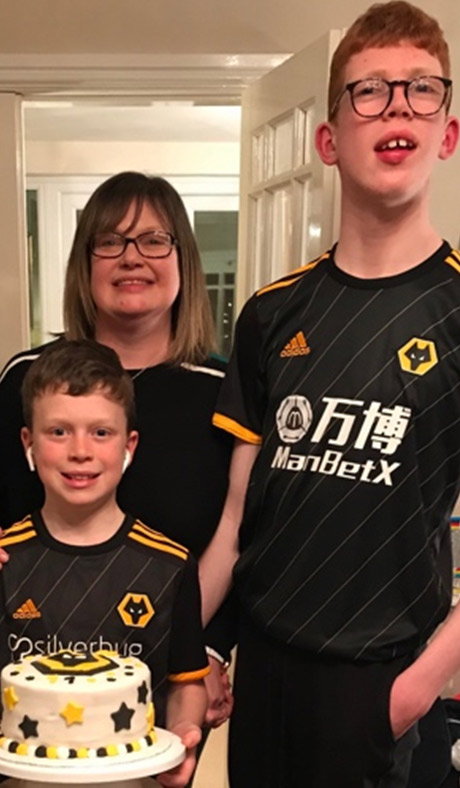 Matthew was born in October 2002 he weighed a healthy 8lb 10oz.
Initially he appeared to be developing normally but as he got to around 12-18 months it became apparent that certain milestones were not being met in his development  i.e. walking, talking, pincer grip, feeding, toilet training and co-ordination being amongst the areas delayed.  After a referral from the Health Visitor at around age 18 months, Matthew was referred to the local Child Development Centre.  Various assessments were carried out over the following months and years.  Blood tests were taken to try and find a cause for the delay, but no conclusion was ever found.   Matthew had speech therapy intervention, physiotherapy intervention and play therapy.
No-one could give us any answer for the reason for the delay and it was just a waiting game to see if he would ever "catch up".
Matthew attended a private nursery for a short time when a wonderful Special Educational Needs Nursery Officer was introduced to us.  She offered great support during this time and assisted in Matthew being given a Statement of Special Educational Needs (now an Education Health Care Plan) and finding a place at a special school.  At age 4 he started a Primary Special School.  School has always been a positive experience for Matthew, giving him the correct support, accessible timetable and lessons and activities.
Matthew loves attending School. He moved on to a Special High School at age 11.
Then recently moved to another more suitable special school for post 16 where he currently attends and will do so until age 19.
In or around 2010 we were contacted by the Geneticist to ask if we would like to take part in a study being carried out by the Genetic Alliance on children with undiagnosed conditions.  This was called the DDD study.  We agreed and samples were sent off, but we never really expected them to show anything.
I had resided myself to the fact that we would never get a diagnosis for Matthew.
However, in January 2016, when Matthew was aged 13, we received notification from the Geneticist that in fact the DDD study had found a possible cause for Matthew's development delay and learning disabilities.
"Matthew's diagnosis of SATB2 Syndrome was born"
It took me many years to come to terms with the fact that Matthew had special needs and a learning disability.  It has been a very emotional journey to say the least.
At the beginning a diagnosis was the very last thing that I wanted for Matthew, I did not want him being labelled!  It is strange how time, experiences, emotions, and personal acceptance change the way we feel.
The ultimate diagnosis of SATB2 was an absolute blessing.  At long last after all these years Matthew was no longer undiagnosed, he finally "belonged" somewhere.
I was given contact details for the charity Unique who provided a leaflet about SATB2. I made contact with the Worldwide SATB2 Facebook group and Doctor Zarate. To find Doctor Zarate and be part of his study is brilliant.  To speak to Doctor Zarate on the telephone was such a heart-warming experience to finally talk to a Doctor who understood my Son was priceless.
Thanks to Maria Walters a few UK families got together to meet up in person, this was an absolutely amazing experience and became a yearly meeting that has grown with each year.  To be able to speak to other parents who just "get it" is immeasurable.  To belong somewhere and to be able to share experiences and journeys means so much. Very affectionately referred to as my SATB2 family.
Matthew has a severe learning disability, he is doubly incontinent, he is mainly non-verbal, he uses an electronic communication aid. He has physical disabilities he had Botox injections for tight hamstrings. He is under an Orthopaedic Consultant and Orthotics as he has a low muscle tone which affects his ankles and feet. He has leg splints to support his walking. He has scoliosis and underwent spinal fusion surgery in April 2019 to have this corrected.  He has a lack of spatial awareness and co-ordination and has had many problems with his teeth and mouth (high pallet) …..
BUT I want to celebrate the positives, of which there are many!
Matthew can read and write (something I never thought possible), he uses sign language, an electronic communication aid and he never stops trying.  He tries so hard at everything he does and always with a big smile on his face.  He is such a happy boy, he has a very funny sense of humour.
He loves chocolate cake, cookies, cuddly toys (particularly Build a Bear) anything Disney, particularly Donald Duck!  He loves Wolverhampton Wanderers football club, he loves his school friends; he loves Birthdays, Christmas and reindeers.
He loves his family and his little brother Sam, who is aged 11.
For all the obstacles that life has thrown at him, he overcomes so much, achieves so much more than I ever thought possible and I am incredibly proud to say that I am his Mom.
https://satb2gene.org.uk/wp-content/uploads/2020/06/matthew.jpg
789
1253
CBMike
https://satb2gene.org.uk/wp-content/uploads/2020/06/SATB2-logo-180x180.png
CBMike
2020-06-29 17:24:43
2020-06-29 17:30:33
Lynne's story – Matthew